We know how to clean other parts of our body. But when it comes to the vagina, cleaning becomes a mystery.  What's the best approach? Do you need to put something in there to clean it? Or do you need a cleaner for it? What about douching with Hydrogen Peroxide or even steaming?  Today we'll discuss how to properly clean down there… while touching on cleaning "tips" you must absolutely avoid. Understanding our body and caring for it is a key component feminine health and wellness. And to enjoy prolonged vaginal health, we must learn how to clean our vaginas...
---
Antibiotics are the standard treatment for vaginal infections. But unfortunately they only work for a small percentage of women.  And even when it treats one infection… it might also trigger a yeast infection.  Why does that happen? And what can you do about it?  Let's discover that in today's article.  Why antibiotics don't always work for vaginal infections Antibiotics are recommended for infections caused by bacteria. That's what doctors are taught to recommend in medical school. And it's still the standard of care.  And when you take antibiotics, they begin to do what they were designed to do.  They start...
---
Noticing weird conditions on the skin can be very off-putting.  And it's worse it appears in the last place on earth they're expected — the vagina.  Today, we're shedding light on a rarely discussed subject: skin conditions of the vagina.  We'll talk about how to spot and treat them… and also how to avoid getting them in the first place.  Add this information to your arsenal and gain even more control over your intimate health. Lichen Sclerosus: Not Just a Rash Source: Wikimedia Commons Lichen Sclerosus is known by its thin, white patches or red "toughs" on the skin.  It's...
---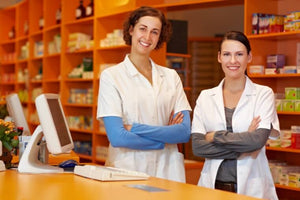 A quick Google search might bring up some concerns about the safety of boric acid suppositories.  For example, you might discover that it's used to make insecticides.  But that's not the whole story. Boric acid's amazing antibacterial properties is used in medicine to treat all kinds of infections. And we'll discuss that in today's article.  While swallowing a boric acid suppository might be potentially dangerous, inserting one into the vaginal is generally safe.  And in today's article, we'll cover boric acid's toxicity… how to safely use it… its effectiveness against vaginal infections…  and why it is highly recommended by reputable...
---
Antibiotics are one of the greatest discoveries of modern science.  Why? Because many deadly infectious diseases are now easily treated. For example, the Bubonic plague killed over 25 million people in the 14th century. But today, this disease is easily treated with a round of antibiotics.  But overuse or misuse of antibiotics is also deadly.  It can lead to health issues like antibiotic toxicity. It can also cause nasty side effects like yeast infections.  How do you protect yourself?  By practicing what doctors call antibiotic stewardship. Types of Antibiotics: Broad-Spectrum Vs. Narrow-Spectrum There are two types of antibiotics.  Broad-spectrum and ...