You've likely heard "laser procedure" floating around in conversations about skincare or even eye surgeries. But do you know that lasers could be a game-changer for your vaginal health as well?  If you've been dealing with V issues like vaginal dryness, incontinence, or even laxity (looseness), then read on. Today's article is about this incredibly effective treatment option that many ladies don't know about.  It works. It's safe. And it's painless. Want to learn more? Let's get started.  What is  Vaginal Laser Procedure anyway? It's exactly what it sounds like: a doctor using a special wand to shoot lasers...
---
Our lady parts have a mind of their own sometimes. There are times when we can eat anything we want, have all the sex our heart desires, and nothing would go wrong. But suddenly, everything changes. Almost anything we do triggers a vaginal issue… from odor to yeast infections… to BV . And whenever we treat the infection, we still continue to feel super self-conscious. We constantly fear getting an infection again. If you've been there, you know what it feels like. Maybe you've faced challenges like vaginal odor, yeast infections and BV in the past. Nobody wants to go...
---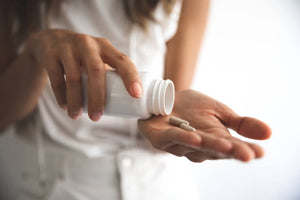 Probiotics are a special kind of supplement. Instead of chemicals, probiotics contain LIVE bacteria, which is good and bad news. The good news is that these bacteria can help you fix your vaginal health and gut health — if they make it there.  And the bad news is that if they don't make it to your vagina or gut — then they're completely useless. The LIVE bacteria in your probiotic may not make it to your vagina and gut for one simple reason: they may be killed off before they make it past your stomach. What kills them? Your stomach...
---
For many women, intimacy has lost its charm. All they can do is remember the good old days when they could have glorious sex whenever they wanted. But those days are gone because they can enjoy sex anymore.  Why can't they enjoy sex anymore?  Because of their low libido. It's harder than ever to get turned on.  What's even more frustrating than that? Knowing you want sex, and actually wanting to want it… and yet your body says no thanks. From then on, sex starts to feel like a chore. But it doesn't have to remain that way. If you're...
---
There are several reasons why you might need to take antibiotics. You may need to take it after surgery. Or to treat a condition that's completely unrelated to vaginal health.  But you must know that antibiotics disrupt your body's microbiome. And when it affects your vaginal flora, it can lead to a nasty outburst of yeast infections.  And that can be super annoying. Most ladies don't know what to do about that.  So in today's article we'll discuss how antibiotics can cause yeast infections…  And the simple steps you can take to protect yourself.  How Antibiotics Affect Your Natural Cleaning...